Faculty of Telecommunications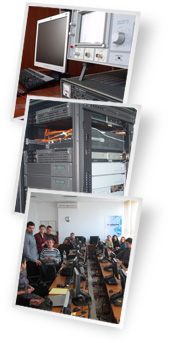 Today, the specialty of Telecommunications and its Master program are very popular among students and businesses. The Faculty of Telecommunications has excellent team of highly qualified specialists. The Faculty trains a significant number of Bachelor, Master and Ph.D. Students in the field of telecommunications - radio, audio, video, cable and fiber optic communications networks, systems and technologies, environmental and energy monitoring and etc.
The Research and Development Section of the Faculty of Telecommunications is recognized both in Bulgaria and worldwide. The scientific achievements of our faculty are published in the major international scientific journals. Our projects and applications are incorporated in thousands industrial sites at home and abroad, and every day they bring to the people income, convenience and pleasure.
Graduate students from the Faculty of Telecommunications have created and currently manage and operate the Bulgarian Communication industry, companies and research units in the sector. Thanks to their broad education, they are able to work in other related fields - computers, electronics, automation and etc. Abroad, our graduates enjoy outstanding success and in many cases reach the highest levels of career and business.